glasspieces @ tumblr Monday, September 14, 2009 08:19 p.m.
oh my. im so sorry pitas. but i have to let you go. oh pitas. you have been with me since the new year of 2003. its been 6 years. six long years but oh, i have to let you go and make way for tumblr for its greener over at the other side. rest well my dearest pitas. you have served me well, i have flooded you with all my bullshit, craps, and nonsense. but i also treated you nice by making you look pretty, dun forget that, and adding more colours by posting up pictures, and vibrant, with all the youtube videos that i shared using you.

but hey pitas, dun emo lar. knn. i blog at other place you want to cry. ccb. i will still use you as my photopage lar. this is for real already arh. glasspieces.pitas.com will be my sidepage from today on. and say hello to tumblr. glasspieces @ pitas has officially been moved! to glasspieces@tumblr. but do you think i should change glasspieces to another? but glasspieces has been stuck with me for so long already! maybe i should. ok! firstly, i used pointzero, followed by shifty, misledyouth, and down with glasspieces. right now, at the dawn of new era, it will be.....

glasspieces still until further notice. ive moved!
glasspieces@tumblr
|
syurga cinta Friday, September 11, 2009 06:18 p.m.
oh my god. im oh-so-craving for mcspicy. craving really bad. kalah org yang mengandung i tell you. and thank you cikgu liyana for syurga cinta. it was nice. and its even nicer when i imagine the guy was me, and the lady was some other lady, who i believe is my soulmate. really nice. haha! i guess imperfection is what make a person perfect. you know you fell in love at first sight when you get lost in your own world upon seeing her. but then, oh well. and its getting mundane here coz theres no more blog to read. all the close people that i know dun blog anymore. and of course, its definitely getting mundane when all i talk about is love. blearh! a facilitator asked me the other day, lukman, whats love? and i answered, huh? love? love, hmm, love, friendship, yeah. love is friendship. pyaar dosti hai. feeling feeling hindustan kuch kuch hota hai ke aper aku!

dan yang ketiga, jodoh dari Allah, kamu berdua berpandangan mata, terus menusuk di kalbu. kamu terus meminang dier, dan dia terima pinangan kamu. insyaAllah, berkekalan ke akhir hayat. dan inilah yang dikatakan, syurga cinta.

ok thats it. ive made my decision. im going to go to geylang later, and get my mcspicy along the way. selamat berbuka.
|
carikan aku jodoh lar Thursday, September 10, 2009 09:34 a.m.
ive made a decision to blog first before i start of with my work...

i got the song from this one blog that i will always end up reading; one of the few blogs left that i always read. and when i go to school today, one of my office staff was singing this song. and i was like, ehhh! that song! and end up singing together. i somehow got that song stuck in my head lar. ok anyway and moving on to another story...
i somehow still has this uneasy feeling coz i still havent develop the pictures for farah's engagement. and the website cd is still not done. and hari raya is just around the corner. wahh. no time sia to handle school and editing the pictures. and talking about pictures, i dunno why im not camera shy anymore. i swear it was hard for me to pose for the camera last time. i will either not smile, or have that uninterested look.
tapi kalau skarang, nampak camera, mampos, pantang betul. tangan melayang-layang!
ibu-ibu bapak-bapak, siapa yang punya anak, bilang aku. aku yang tengah malu sama teman-temanku. karna cuma diriku yang tak laku-laku. pengumuman-pengumuman, siapa yang mau bantu tolong aku, kasihani aku, tolong carikan diriku kekasih hatiku, siapa yang mau
ok i swear im not like that. even though im single, im not desperate ok. but the song catchy lar. in certain ways. but i miss this period of my life. the time when im allowed to shiok sendiri and take self potraits of myself and now i just want to shiok sendiri again and show you myself with uniform which i now think looks awkwardly funny on me. ok getting back to work!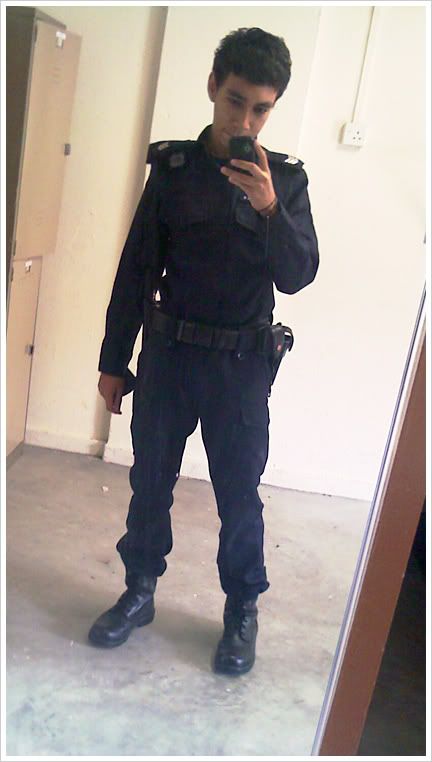 |
freee Sunday, September 6, 2009 03:51 p.m.
wahhh! totally no life for the past few days. it has always been work, and more and more of editing pictures. im still finding time to go to parkway to develop my friend's pictures. i think im also just plain lazy lar.

lukman, kluar? lukman, buka luar?
sorry arh bro. penat arh. sorry arh. ader byk kejer lar. -_-

tmrw onwards will be a better week. more course, and more people to meet up. hopefully.
|
mykim Friday, September 4, 2009 06:37 p.m.
i was at the road safety park just now with my students and my god, there she was, standing on stage, the REM girl from okto, kim wakerman! who was the emcee for the day. she was stunning. and all the primary school kids are swarming her for autograph. i cant be possibly doing that right. haha. but she is stunning lar. alah. biar lar.

anyway, the performance at the road safety park was ok lar. and i wonder, if a primary 3 and primary 5 school kid can dance so well, i can to! i still am addicted to that bleeding love dance. dah lar. slamat berbuka.
|
dance addiction Wednesday, September 2, 2009 11:57 p.m.
seriously, it has been 4 days and i still keep watching the bleeding love dance video below. its like an addiction. and i danced to part 0.26s with my friend yesterday at singapore post. im practically dragging and forcing my friend out to dance with me. im at the early stage of going bonkers. someone need to stop me before anything happens k. two more working days and another weekend to come!
|
teachers day dinner Tuesday, September 1, 2009 02:20 p.m.
and so i had my teachers day dinner yesterday. seven affiliated school come together for a mass lasellian dinner at orchard hotel. so just imagine, 700 hundred staffs are in the big ballroom. and with all the many different and similar faces, its like a big wow for me. the lady in tiara caught my eye. lol! i had fun lar, although the food was not that really fantastic but kept picture snapping away. what important most is, i had a good time. ok! im off to ion!
** when i read back this entry, aku tak tau aper language aku pakai.
different and similar faces.
and
the food was not that really fantastic but kept picture snapping away.
aper kau bobal nie lukman. -_-
|
i want to become a dancer Monday, August 31, 2009 12:50 a.m.
i just need to post this lar. and im posting it everywhere. i think im like watching it for the tenth times already. first thing, the female dancer is cute. secondly, the dance moves are sleek lar. just imagine, let your imagination go wild, and visualize that the male dancer is me. wah sei! hot per aku! good night people. i want to become a dancer. and take the world by storm.
|
hey you Sunday, August 30, 2009 11:19 p.m.
thanks arh eh for doing this to me. you just made me change my mind in an instant. ok lets look at the bright side people. i have my lasellian dinner later. look forward to that. look forward to the coming activity and dun let all these bother you. bright side people!
|
self indulge Sunday, August 30, 2009 09:36 p.m.
oh yeah. here it comes again. the night when i keep dwelling over the past, the night when i keep thinking about her, the night when all the inspiration supposed to come in, but it didnt. i dun care what people are going to say about this but...

i dunno why but it has been 9 months since we broke up and i still get worried about how she is doing. maybe i guess its just me. maybe its just how right we start of the relationship. when i see only her, and hear only her voice, when we were at the cross junction of the traffic light, infront of everyone. and when our forehead met, heart raced, and silence said it all. and how the night started to drizzle, as we walked slowly down the alley, with the dim light, hands held tight, and i said i love her, i really do.

i dunno what happened along the way. 5 years are nothing, but the memories that i shared with her in this 5 years stopped me from moving on. this is miserably awkward. i lost all inspirations and creativity. and the drive do what i like most. ahh..emo siak! self indulgence to increase self esteem time ok!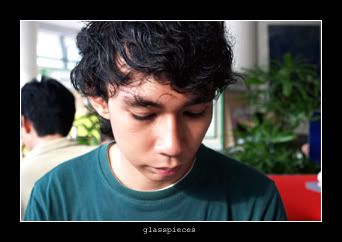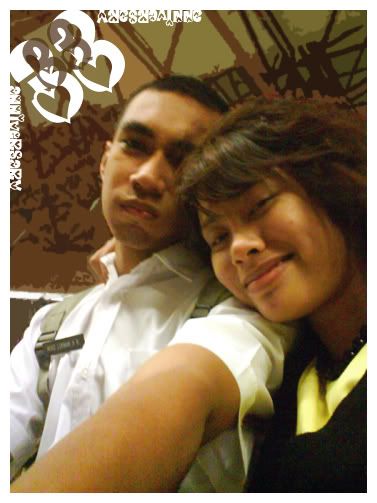 the impottant thing is not that youve made a mistake
but that you acknowledge that mistake
and summon the courage to make things right
|
let september ends... Sunday, August 30, 2009 05:49 p.m.
my god, im in a want-to-update-but-dunno-what-to-update state. im so blank! im so lack of inspiration at all. i need someone to push me! someone please. push me, pour in everything. inspire me. its been a dreadful 9 months. i think im on a curse, under a blinding spell, that i dun find any interest in any girls that i see. not that im turning gay. no no. why does it feel so numb. i dunno if im enjoying the life that im leading right now. but heck, i need something new. can i just post, someone please date me coz im dateless and hopeless. ok ok think. will hari raya bring a new light. i need a breath of fresh air. ok wait. now i know.

lets retrospect, slowly. ok its ok. i now know where and what went wrong. i miss having someone, or something, to look forward to each day.

hmmm...lets see what semptember brings me. 2009 is a bad year. but kan, why think of the bad things when you can have all the good things. stay positive lukman
|